Dictionary of Modern Slovene: Problems and Solutions
Ključne besede:
Dictionary, Modern Slovene, Slovene language
Kratka vsebina
In the autumn of 2015 we published a monograph titled 
Slovar sodobne slovenščine: problemi in rešitve
 (Znanstvena založba Filozofske fakultete UL, 660 pages), which presents the results of studies focussed on some of the key questions in the conceptualisation of a state-of-the-art dictionary of Slovene; a dictionary that would address the challenges of modern lexicography, and would promote Slovenian lexicographic theory and practice internationally. Although the monograph focussed on the Slovene language, the presentations of the results abroad have shown that the studies are also of great interest to colleagues in other countries. This led to the decision to make a selection of relevant chapters, and translate them or adapt them for international audience. Several contributions have been in the meantime published in international journals or conference proceedings, so this monograph contains only those that have not yet been published in English.
This monograph, containing 13 chapters, presents the compilation of a dictionary that utilizes different technologies available, and is conceptualised around language technologies, i.e. it uses state-of-the-art methods of language analysis, data extraction and data storage, and visualisation.
Poglavja
Contents

Introduction

Technological Design of a State-of-the-art Digital Dictionary

Morphological Information in Modern Slovene Dictionaries

The Sloleks Morphological Lexicon and its Future Development

Dictionaries and Learning Slovene

Creative Writers as Dictionary Users:

Creating in Language and with Language

Reference corpora revisited: expansion of the Gigafida corpus

expansion of the Gigafida corpus

The expansion of the Gigafida corpus:

Internet content

Language Technologies and Corpus Encoding

Dictionary of Modern Slovene:

lexicographical process

Dictionary examples

How specialised should a general dictionary be?

The potential of crowdsourcing in modern lexicography

Crowdsourcing workflows in lexicography

Bibliography

Name Index
Prenosi
Podatki o prenosih še niso na voljo.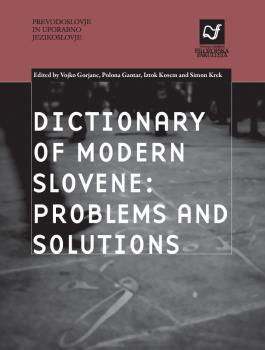 Tiskane izdaje ISSN
2335-335X
Kategorije
Podrobnosti o formatu publikacije na voljo: PDF
ISBN-13 (15)
978-961-237-914-8
Date of first publication (11)
10. maj 2017