Works of Art on Parchment and Paper: Interdisciplinary Approaches
Ključne besede:
umetniška dela, pergament, papir, arhivi
Kratka vsebina
When preparing the international symposium "Works of Art on Parchment and Paper" in the spring of 2018, our plans coincided with those of the European Year of Cultural Heritage: we set out to present the research work and the never-forgotten concern for artworks created on parchment and paper – two of the historically most important and most frequently used media. Our invitation to participate in the symposium was accepted by many scientists, experts in this field of work, from various countries extending from the Baltics to Central America. In 2019, the year of the symposium and the presentation of this publication, the University of Ljubljana is celebrating its centenary, which for us marks an extraordinary jubilee; in this period, we formed the Slovenian scientific language, sharpened our views, and contributed to joint scientific progress.
Poglavja
Welcome speech

Foreword

Works of art on parchment and paper on our mind

The dilemma of the fine administrator: the original or facsimile

Old conservation materials and methods on parchment documents

Artworks on parchment and paper material of parish archives in the dravograd-meža valley deaneries

Patterns of decoration: quire signatures and initials in 12th century cistercian legendary (alc. 418-422) from alcobaça

Apocalypse drawing as a possible source for a fresco decoration in hartberg chapel

Drawings on parchment and paper of medieval italian notaries (12th–15th centuries)

The so-called Ohmućević genealogy (Kraljeva Sutjeska genealogy) in the light of the results of recent iconographic, historical, heraldry, and restoration research papers

The reverse face of the painted page

Pastiche aesthetic. A forger's or a restorer's practice?

Some observations on use of book illustrations for popular south-german prayer books as models in central european art

Venetian early modern single-leaf prints after contemporary sculpture: questions of form and function

Berthold's gum bichromates in/as artistic practice

Niko Kralj's presentation panels depicting his designs for the stol factory, early 1950s

From east to west: study, conservation and exhibition of the tabula chorographica armenica (17th century)

Herberstein's gratae posteritati (1560) in Ptuj and Brno: comparison of the colouring materials used on woodcuts

The leiden charter project: developing a systematic approach for the conservation of thousands of charters

Restoration of gouache paintings on paper

The value of conservation and digitization of architectural and design drawings for historical research

Problems of the conservation of artworks on large-format paper supports

A multidisciplinary approach to conservation: a case study of Ignatius of Loyola's autograph diario spirituale

Analysis of works on tracing paper from a collection of drawings by lithuanian artists

Technical drawings: conservation treatments

From author's draft to select library holding: the metamorphosis of Franz Kafka's manuscripts

Conservation of a chine-collé colour etching by M. C. Crnčić (c. 1910)

Preservation of Lojze Dolinar's sketches (ca. 1950–1970)

Rescuing the Woman in white by Gabrijel Stupica

Dilemmas in the conservation-restoration treatment of contemporary art pieces made of paper

Photographic and technical examination: a valuable tool for the conservation treatment of works of art on paper and parchment

Funori: natural adhesive for the resizing of paper materials

Magnets: some physics every conservator needs to know
Prenosi
Podatki o prenosih še niso na voljo.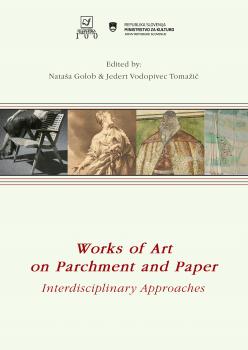 Prenosi
Kategorije